24 Hour Emergency Plumber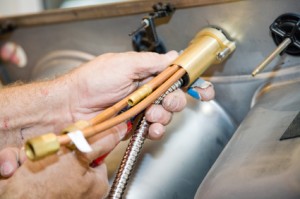 Plumbing & Heating Technologies, LLC, your New Jersey plumber, handles all plumbing projects from small to large scale in the New Jersey area. Our plumbing experts have experience in many different environments, performing home plumbing repairs, installations, troubleshooting in any commercial setting.
Not only are we able to offer any plumbing work needed for New Jersey Homeowners, but we also offer the best plumbing guarantees in the area. Don't hesitate to call us with any plumbing problem, from a leaky faucet to installing bathrooms on the space shuttle!
Our Plumbing Services Include
Leaky faucets or pipes
Toilet clogging, poor flushing performance
Installing washing machines or dishwashers, ice makers, etc.
Sewerage pipe blocks or leaks
Emergency Plumbing
Old Plumbing Specialist Shower or bathtub installation
New plumbing for laundry, kitchen, bath, lawn sprinkler system, etc.
Schedule Now!
If you are looking for an emergency plumber, then give us a call today at 732-272-5334 or complete our Service Request Form
Schedule Now!