Boiler Installations and Repairs
Current Boiler Energy Efficiency Incentives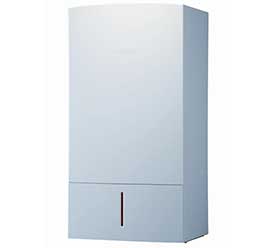 The current U.S. Federal Minimum energy efficiency standard for boilers took effect in 1992. The standard requires that new residential 78%, hot-water boilers (heat input rate of less than 3000,000 Btu/h) have a minimum Annual Fuel Utilization Efficiency (AFUE) or 80% and steam boilers a minimum AFUE of 75%. Most new boilers can be grouped into one of two general classes on the basis of efficiency: "power combustion" hot water boilers with AFUEs of over 85%.
Federal and State policies have centered on promoting the selection of appliances based on AFUE. However, that measure of performance with hydroponic systems because: it does not consider the domestic hot water load which is typically integrated with a boiler system, and it does not fully consider the impact of new control options such as outdoor reset and thermal post purge. The approach is this work addressed these and followed an input/output method being developed separately for commercial boilers by ASHRAE.
Make Plumbing & Heating Technologies your first choice for oil and gas boiler installation, repair and maintenance. Did you know that most old burners operate at as little as 50% efficiency, and the average home burner in place today operates at only 60% efficiency? New boilers installed by Plumbing & Heating Technologies offer an efficiency rating of up to 96%, which can often pay for the cost of the new one in just 2 years from money saved on fuel.
New heating systems offer environmental and safety advantages, too. Using less fuel and producing fewer toxic by-products of combustion, new boilers reduce the risk of carbon monoxide exposure within the home or business
In addition, we can customize any project to meet your specifications. We guarantee to get the job done right the first time and will work hard to make sure you are completely satisfied.
Our Services:
Boiler Installations
Boiler Repairs
Boiler Services
If you are looking for a plumbing, heating & air, home air quality and kitchen & bathroom renovation Company, then give us a call today at 732-272-5334 or complete our Service Request Form.